Get the BEST Products, Prices and Service
Specialty Replacement Lamps & Bulbs,
Hand-held Magnifiers & Microscopes,
Thickness Gages and other Measuring Instruments,
Graphic Arts / Copier Screens,
Anti-Moiré filters for Digital Cameras

Download a PDF Format Line Card on Caprock Products
Specialty Lamps for ALL Applications
Equipment manufacturers don't make the lamps they sell, so why pay the high prices they and their industrial distributors charge? Try our factory-spec replacements for all industrial and scientific applications, including printing, graphic arts, silkscreen, microscopes and illuminators, medical manufacturing, optical comparators, printed circuitboard(PCB)manufacturing and CD replication, medical and scientific equipment.

We also supply a full range of lamps for ultraviolet (UV) curing conveyors and digital and conventional presses, tunnels, chambers and spot curing guns, low and medium pressure germicidal (UV-C) lamps for air and water purification systems infrared (IR)/flash drying/heating, fadeometers, and even metal halide general illumination lamps and ballasts for factories and warehouses.

Lamp types include metal halide, mercury vapor, pulsed xenon, quartz halogen, incandescent, ultraviolet (UV) curing, mercury capillary, short arc mercury and xenon, germicidal (UVC), fluorescents and infrared (IR).

Click the "Lamps" drop-down menu above to go directly to:
For quotes on the lamps you use, click the 'Contact Us' link at the top of the page to send us an e-mail, or call toll-free: (800)-222-0325 from 9:00AM to 5:00PM, Monday - Friday (Eastern Standard Time).
For printers, graphic artists, silkscreeners, PCB/CD manufacturers, quality control/inspection, coin, stamp & antique collectors, jewelers, geologists, forensics specialists, entomologists, naturalists, conservators and others. Selection includes folding inspection magnifiers, linen testers, stripper's magnifiers, jeweler's loupes, measuring magnifiers, and the revolutionary new LensMaster color viewer and surface inspector.

Pocket and Portable Microscopes
Our microscopes are small and easily moved to where they are needed, available from 25X to 200X. The smallest are the pen microscopes, literally the size of a ballpoint pen, in 25X, 50X and 100X. If you need illumination, we have two styles, both with LED light, powered by AA batteries.

Peak Stand Microscopes are the high end of the line, in powers up to 200X for use by printers, PCB manufacturers and anyone who needs high-power and sharp magnification.

Download a PDF format catalog on magnifiers and microscopes
Measuring Instruments for Thickness, Lines/Inch and Stainless Steel Rulers
Digital and analog thickness gages measure paper, plastics, wood, metal, and other solid materials.

Screen finders/mesh counters determine the lines or threads per inch in any regular repeating pattern up to 250/inch.

Stainless steel line gages with scales in inches, picas, metric and points.

Download a PDF catalog sheet on Measuring Instruments
Anti-Moiré/Anti-Aliasing Filters for Electronic Cameras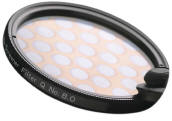 These brand-new optical filters eliminate pattern moiré and aliasing.